Seri Kembangan
No 2 Jln Dagang SB 4/2, Taman Sg. Besi Indah, 43300 Seri Kembangan, Selangor Darul Ehsan.
Tel: 03-89458022
Fax: 03-89457022
H/P: 016-6220018
Email:
erwintravel_skb@yahoo.com
Kajang
No 61, Jln Besar, 43000 Kajang, Selangor Darul Ehsan.
Tel: 03-87333488
Fax: 03-87335488
H/P: 012-3755446
Email:
erwintravel_kjg@yahoo.com , erwin_kjg@yahoo.com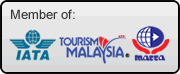 Services
Erwin Travel and Tours Sdn. Bhd. a trusted name in the local travel industry, was established in 1994.

The company is a licensed travel agent (registered with Malaysian Ministry of Tourism and Malaysian Ministry of Finance) for air ticketing, inbound and outbound tours and various tourism related activities showcasing the rich culture of Malaysia and her exotic sights and sounds.

WE SPECIALIZED IN:


Worldwide Ticketing
Inbound & Outbound Tour
Group Tour Arrangement
Muslim Tour
Travel Consultation
Hotel Reservation
Transportation
Travel Insurance
Staff Incentive Program
Ferry Ticket
Cruise
Stcudent Package
They services cover the whole spectrum of hassle free travel which include the following:
Air ticketing services for both retail and corporate customers



Erwin Travel and Tours provides reservation and ticketing services to both individual and corporate travelers. As the company is fully computerized with the Abacus Whiz, we are able to provide instant ticketing reservation and confirmation services.

We enable people to pre-schedule flights and Air-tickets for travel worldwide and ferry ticket to Langkawi, Pangkor, Tioman, Batam, Tg Pinang, etc. Advance ticketing is almost required on most flights, unless one wants to pay a higher price.
Hotel reservations



The company's Worldwide Hotel Reservation System provides up-to-date information on hotels worldwide. It is able to provide reservation services for hotels at very competitive prices and our rates are competitive in view of our high annual volume.

We offer a comprehensive list of hotels with up to

35%

discount off published rates, transfer services all over Malaysia.
Group and independent travel



We also provide group tour & free and easy packages, corporate tour, incentive tour, and star cruise.
Transportation arrangement



Tailor made itineraries for more flexible travel to any destination in Malaysia. Our coaches are fully equipped and air-conditioned to ensure your comfort and enjoyment of the tour. Our drivers are well trained to assist the customers. With experienced drivers and a large diverse fleet you have your choice between many sizes, styles, and more. With the ability to accommodate parties small to large.

Through the years, Erwin Travel has steadfastly conducted our business based on the principles of trust, reliability, efficiency, value-for-money and an enriching travel experience for the whole family. They take pride in our appointment as a travel agent for those airlines that operate from Kuala Lumpur International Airport (KLIA) and Low Cost Carrier Terminal (LCCT).
Erwin Travel Registrations and Affiliations include the following:
Ministry Of Tourism, Malaysia
Ministry Of Finance, Malaysia
Malaysian Associations Of Tour & Travel Agents
Malaysian Chinese Tourism Association
Malaysian Inbound Tourism Association
They are also insured with Combined Liability Insurance Program for Malaysia Association of Travel and Tour Agents (MATTA) with MULTI – PURPOSE INSURANCE BERHAD for professional indemnity, public liability, and employers' liability.
To provide one-stop travel solutions to our customers, the company is managed by team of highly experienced and dedicated Travel Advisors who are committed to make customer's vacation a pleasant and memorable experience.